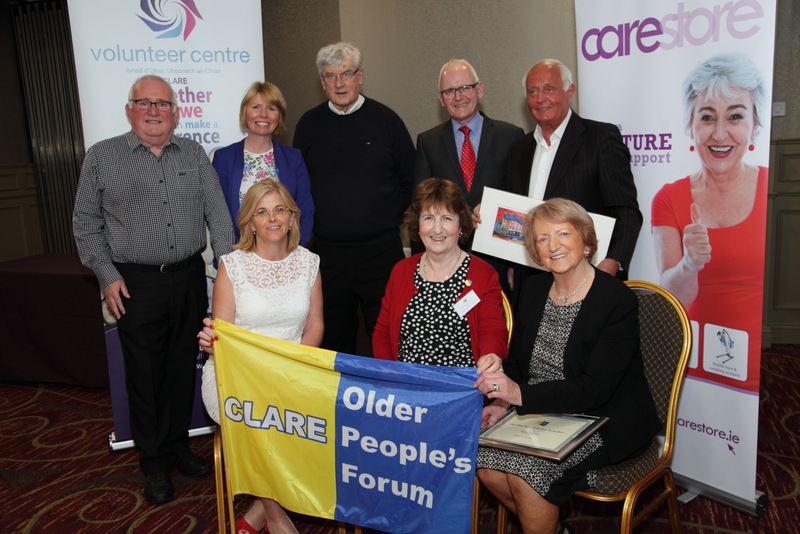 Treacey's the West County was abuzz with excitement on Tuesday afternoon for the Older Volunteer of the Year Award. This event was organised by the Older Peoples Forum in cooperation with Clare Volunteer Centre and Clare Local Development Company to acknowledge the contribution of older people in their communities throughout County Clare.  The Older Peoples Forum are an Advocacy group in County Clare who work with all agencies and community groups in the county to enhance the quality of life for people over 50.
The competition was launched in March to find a volunteer over the age of 55 who had made a valuable contribution by giving their time, energy and skills to enhance the lives of others in County Clare.
Maura Cotter from Kilmihil was selected as the Older Person of the Year award, Maura was nominated by Kilmihil active retirement for her role as a lifelong volunteer having set up and participated in a large number of groups in her community. She has also researched and edited a number of historical publications about Kilmihil. Her daughter Aine who received the award on behalf of her mother spoke of how her mother had not only volunteered herself but also fostered the spirit of volunteering within her 8 children.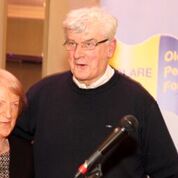 Presenting the awards Fr Harry Bohan spoke of how the contributions made by so many unsung heroes in their community is often not seen or valued.  So many vibrant communities would not exist without the tireless volunteers who work quietly within their communities.
Second Prize went to Rita Higgins from Sixmilebridge nominated by Sixmilebridge Development Association. Rita was credited with inspiring others within the community with her commitment to embrace all efforts to make the Bridge a better place to live, work and play.
Third prize went to Tommy Ryan, Ennis who was nominated by his daughter Catherine Hogan for his willingness to support fundraising events with music, songs and stories. Mickey Wilson from Miltown Malbay nominated by Miltown Malbay Tidy Towns received the Special Commendation award and a print of Miltown Malbay sponsored by artist Phillip Morrison for his tireless work as an unofficial tour guide, advisor fundraiser and advocate within his community. Sharon Meaney, Manager of the Clare Volunteer Centre spoke of how important events such as the Older Volunteer of the Year Award are to ensure that everyone is reminded of the huge contribution that older people play as volunteers. Sharon encouraged the attendees to keep volunteering stating that our communities need positive role models to ensure that our communities continue to thrive.
Speakers also included the Forums Chairperson Stella O Gorman who outlined the role of the Forum and John Connell from the Carestore Ennis who congratulated all nominees and also sponsored the first prize of an iPad for winner Maura Cotter.
The event was rounded off with Music from Larry McEvoy and dancing.