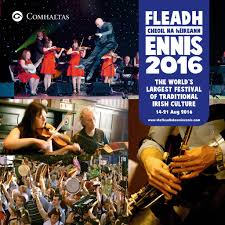 TRAD CONCERTS TO ELECTRIFY ENNIS IN AUGUST
Fleadh Cheoil na hÉireann Inis 2016 has assembled a feast of top performers for a series of concerts which will be staged in Ennis from the 14th– 22nd August.  Quality concerts and other events have developed over the years as a key element of the All Ireland Fleadh in addition to competitions and street sessions.
Among the leading names this year in Ennis are Martin Hayes, Maura O'Connell, Stockton's Wing, Frankie Gavin, The Kilfenora Céilí Band and Cherish the Ladies. Details of the 28 concerts are provided in the accompanying Concert Programme with date, time, venue and cost details. Concert tickets can be booked online at the Fleadh website fleadhcheoil.ie
"There is something special about Fleadh Cheoil na hÉireann coming back to Ennis," said Padraic O'Reilly, Fleadh Concerts Manager. " This is where musicians want to be in August and I am so grateful to the dozens of performers who are travelling from here there and everywhere to be with us for the Fleadh. Without their wonderful cooperation it wouldn't be possible to have this amazing line up and I believe we have something to suit every trad taste. " he added.
A total of 17 concerts will be staged in Glór, the premier performance space in Ennis, a centre of excellence for audiences, artists, performers, and the community, and an integral resource for the traditional arts. It has a seating capacity for almost 500 people. The Glór concerts include Bofin to Burren, A Celebration of the Music of East Clare with Martin Hayes and friends, Frankie Gavin,  Noel Hill & Arty McLynn, and Fidil Beo – a series of five  concerts which showcase the work of outstanding fiddle players. The Comhaltas Overseas Concert will also be staged in Glór as well as Kíla and guests Mánran and the Hounds of Ulster.
A special Dome will be constructed at Tim Smyth Park in the centre of Ennis which can seat 2,000 people.  This will be the venue for five major events including Beoga/Crunniú, The Kilfenora Céilí Band, Stockton's Wing/Maura O'Connell,  the Senior Céilí Band Competition and Cherish the Ladies.
Four events including the Meitheal Orchestra will be staged at Dánlann an Chláir. The Dánlann performance venue is semi-circular in shape with an open plan stage area, providing tiered seating for almost 400 people. Derek Warfield and the Young Wolfe Tones will perform at Treacys West County Hotel and the opening pageant Seachtar Fear, Seacht Lá will be presented at Clare GAA grounds in Cusack Park.