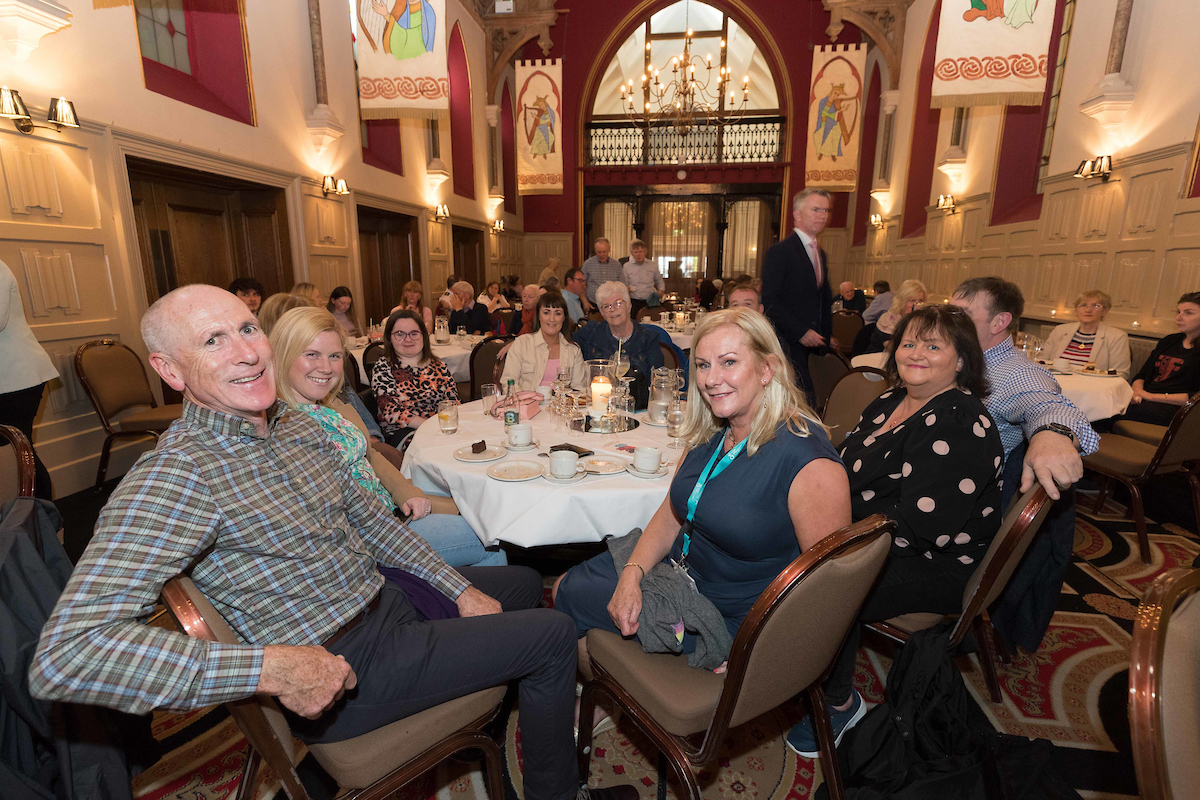 PRESS RELEASE
Monday 23rd May 2022
CLARE COVID VOLUNTEER RECOGNITION EVENT
Clare County Council and the Clare Volunteer Centre took the opportunity to recognise and acknowledge the vital contribution that volunteers played in the response to the Covid-19 pandemic at a Volunteer Recognition Event held in the Templegate Hotel.  The event was part of a national series of events during National Volunteering Week supported by the Department of Rural and Community Development to acknowledge how important volunteering is to the well-being of our communities.
Over 100 volunteers were in attendance at the event and were presented with a specially commissioned pin by the Government of Ireland to recognise the contribution of all those who volunteered in response to the Covid-19 pandemic.  A further 200 pins were distributed to organisations who were representing the many volunteers who provided a vital link to vulnerable members of our communities.
Sharon Meaney, Manager of the Clare Volunteer Centre, reflected on the important role that volunteers played, "you brought so much more than a loaf of bread or the daily newspaper, you brought a reminder that community had a huge role to play as we navigated through the pandemic, and you were part of that.  You brought about new friendships, a sense of connection and kindness – you gave reassurance that we are going to get through this, you brought positivity, hope, compassion and a smile…. even behind the mask".
Leas Cathaoirleach Joe Killeen commended the roles that individual volunteers and organisations played, presenting a letter from An Taoiseach, Micheál Martin to Civil Defence Officer, Noel Carmody recognising the contribution of emergency service organisations, including Clare Civil Defence, Clare Red Cross, Order of Malta, St Johns Ambulance.
Carmel Kirby, Deputy Chief Executive of Clare County Council acknowledged the positive partnerships that had developed as a result of the work of the Clare Covid Community Response Forum, "working with the Clare Covid Community Response Forum provided an opportunity for us to work collaboratively with other agencies and voluntary groups in supporting and building capacity within our local communities who were responding to Covid-19. We continue to work with many of these communities as they face new challenges in the response to the Ukraine crisis".
The volunteers were treated to music by 'The Really Truly joyful Ennis Gospel Choir" and Maurice Harvey, Chairperson of the Older People's Council recited a poem written by Patricia Anne Moore – "We'll never have this time again".
Link to photos gallery – just click here
Ends
For more information contact Sharon Meaney, Clare Volunteer Centre – 086 803 1106
Notes to Editor
Photo Link