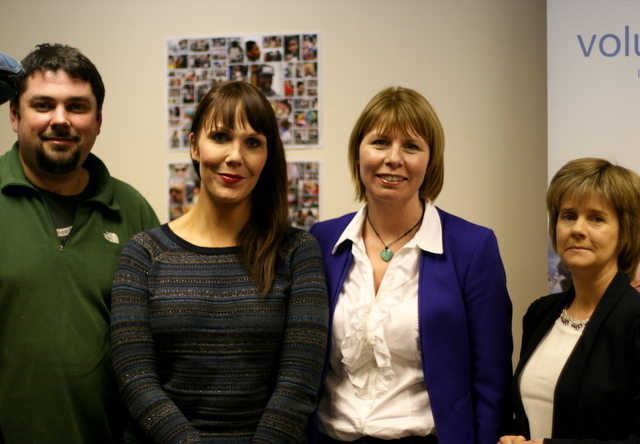 Knitting our Community Together
The Clare Volunteer Centre goes Nationwide!
 Nationwide's Aine Lally, visited the Clare Volunteer Centre on Saturday 24th November to see how the centre is celebrating the International Day of Volunteering on Wednesday December 5th.
Clare Volunteer Centre manager, Sharon Meaney explained why RTE's Nationwide were interested in visiting the centre.  "We contacted the team in RTE about our recent 'Knitting Our Community Together' project. Once they heard about this unique and innovative project which had brought together over 100 individual volunteers and 40 community and voluntary groups they wanted to come down to Ennis to film the final stages of the knitted poem".
As well as looking at the creation of the knitted poem, Nationwide's Aine Lally also wanted to get a sense of the community spirit in Clare by speaking with some of the volunteers who were registered with the centre. Aine spent the morning meeting Sue who volunteers with the Ennis Eagles, Carrie & Kathy who co-ordinate the Shoebox Appeal for the Clare region, members of the Ennis Street Festival and Helen McQuillan who is a community photographer.
The Clare welcome was extended to the afternoon, when Aine and her team met the volunteers who are working as part of the finishing team as well as the winning poet whose poem is being unveiled by Marty Morrisey at the launch of the Knitting Our Community Together Project.  The programme is being aired this Friday 30th November at 7pm on RTE One for anyone wants to get a glimpse of Clare's tightly knit communities.