How many volunteers do you need? Volunteers are at the heart of every Fleadh at local and national level. We need 1500 volunteers to ensure that we can welcome the thousands of visitors that will come to Ennis between the 13th and 21st of August 2017 .
What will I be doing? There are roles for every age and ability. We will be looking for Street Ambassadors, Stewards, Venue Assistants, Green Fleadh Volunteers, Tweeters, Catering Support, Volunteer Centre Assistants, Car Park Stewards, Traffic Stewards
How long will I have to volunteer for? It depends on the volunteer role, but most shifts are between 4 – 6 hours.
Will I be trained? Yes! The training this year, will be different than the Face of the Fleadh Training completed in 2016. Based on your feedback, the training for 2017 will be more focused and role specific.
Will I be supported? Yes! You will be allocated a Team Leader and will have the full support of the Clare Volunteer Centre Team. Volunteers will be paired in teams of 2 to ensure that you enjoy your volunteering experience.
I am not available during the 13th and 21st  of August, can I still volunteer? Yes! There is a lot of work to be done before our visitors arrive, contact the Clare Volunteer Centre to find out how you can be part of the Fleadh before it comes to Ennis.
Can my child volunteer? Yes! For children aged between 12 – 16 years of age, they must volunteer with a parent or nominated guardian (consent forms will be issued). For volunteers between the age of 16-18 a consent form will also need to be signed and they will be allocated roles appropriate to their age.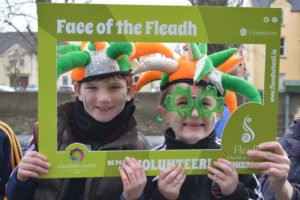 I have support needs – can I volunteer? Yes! Contact the Clare Volunteer Centre and lets see what roles would be of interest to you.
Why should I volunteer? This is a unique opportunity to be part of the largest traditional Irish music & cultural event in the world. You will be part of a team committed to ensuring that the visitors and participants of Fleadh Cheoil na hÉireann enjoy their experience. You will receive training, support, a t-shirt, food & refreshments during your shift and a VIP invite to our Volunteer Recognition Event after the Fleadh.
The question is – why shouldn't you volunteer for the Fleadh?