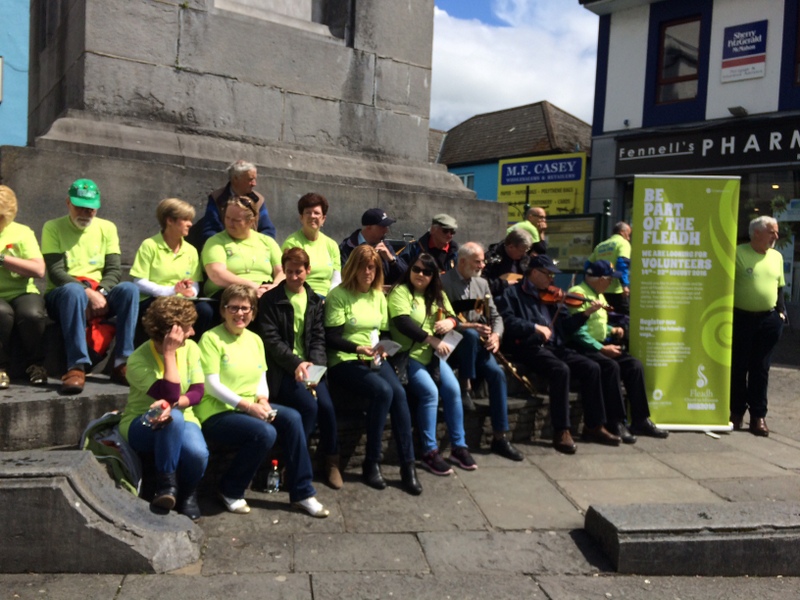 SUPPORT YOUR COUNTY – VOLUNTEER AND BE PART OF THE FLEADH
The search for 1,500 Volunteers for Fleadh Cheoil na hÉireann steps up a gear this week with recruitment drives in Ennis and Miltown Malbay. On Saturday 21st, the Fleadh Volunteer Recruitment team will be highly visible at the O'Connell Monument in Ennis between 11am and 1pm. While a band of traditional musicians entertains shoppers and visitors with some rousing tunes, the volunteer members from Clare Volunteer Centre in their green t-shirts, will bring the Fleadh message to the public, hand out flyers and answer questions.

Meanwhile this Friday, the Fleadh Volunteer recruiting team will be in SuperValu in Miltown Malbay between 11am – 1pm and the following week, the team will meet Ennistymon people also at the local SuperValu at the same times. "Last week we were at Ennis Tesco which was really positive with many signing up. There we had an opportunity to talk to people about the importance of volunteering for this year's Fleadh," according to Sharon Meaney, Manager of Clare Volunteer Centre.
"Getting out on the streets and into the shopping centres is a wonderful way of asking people face to face to get behind the Fleadh and the county. The Fleadh is a great community event and everybody can be part of it. Unlike many large festivals which are organised by professional event management companies, Fleadh Cheoil na Éireann is essentially driven by volunteers. We really do need people and we need hundreds more for Fleadh Cheoil na hÉireann to be delivered successfully" she said.
Mícheál Ó Riabhaigh. Chairman of the Fleadh Executive Committee fully backs the latest Volunteer Recruitment Drive. He explained how seeing volunteers in action in Sligo, Cavan and other All-Ireland Fleadhanna, demonstrates just how important volunteers are in the organisation of an event of this scale but their role as ambassadors for Ennis and Clare this year is vital. 'It is an opportunity to showcase our town and our county so we urge everybody to come out and support this Volunteer Recruitment Campaign and sign up to help us with this enormous task,' he said.
Saturday 21st was chosen for the Ennis drive as it is the start of Fleadh Nua and also coincides with the 11th Annual Clare 10K. It is also National Volunteering Week with the theme of "thinking differently about volunteering'. Clare Volunteer Centre wants to support organisations to attract the right volunteers and to think about new and unique ways they can involve them. On Tuesday 17th, an Award for Older Volunteer of the Year will be announced at a special Awards Ceremony at the West County Hotel. 'But whether young or older we need everybody to support our Volunteer Campaign for the Fleadh, ' said Sharon.
She went on to say that as we move into the summer season, the opportunity for students to get involved as volunteers will increase. "We don't want to bother them at the moment as they face the State exams, but once these are over, we will be tapping into their energy, enthusiasm and goodwill. Besides there are huge numbers of students in Clare playing traditional music."