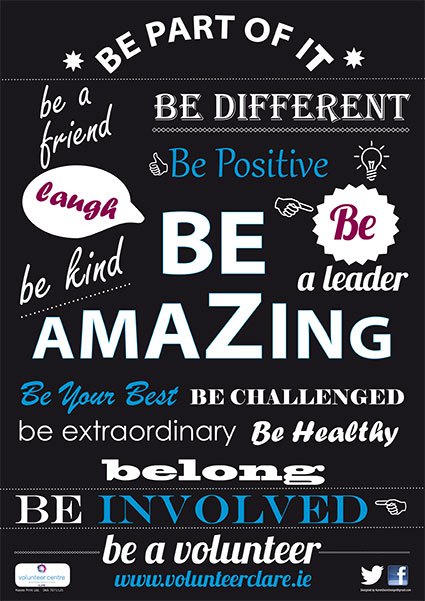 Social Media Executive
(Part-time/ 6 month fixed-term contract)
About Clare Volunteer Centre
Clare Volunteer Centre (CVC) is a county wide volunteer support service funded by the Department of Rural and Community Development. Further information on the Clare Volunteer Centre can be found on www.volunteerclare.ie
Our Vision: That every person who wishes to volunteer is provided with information, support and advice offering a diverse range of volunteer roles to suit all ages and abilities.
Our Mission: To promote the value of volunteering; increase the range and quality of volunteer roles and supports in Co.Clare and raise awareness of the importance of people being able to connect with their communities.
The Role
Job Title: Social Media Executive
Nature of position: Part-time fixed term contract 2 days per week
Salary: €32,000 per annum, pro rata
Location: Clare Volunteer Centre, Kilrush Road, Ennis, Co. Clare and remotely.
Overview of Role/ Summary:
The Social Media Executive will work with the Clare Volunteer Centre team to develop engaging social media strategies, promoting specific volunteer roles and opportunities and raising awareness of the Clare Volunteer Centre.
The role will also involve collaborating and building relationships with external partner organisations, supporting the promotion of events and supporting the work of the Ukrainian Response Forum.
We are looking for someone who is enterprising, innovative and has a can-do attitude with the ability to work both independently and as part of a team(s). You will be committed to providing high quality, relevant information to service users in both English and Ukrainian.
The successful candidate must to be fluent in English and Ukrainian (written and oral). You will have strong administration and writing/ editing skills, and proven skills in relationship building and communications along with a sound knowledge of social media scheduling platforms and other relevant applications.
Please download the role description for more details and the person specification by clicking here: New Employee 2023 Social Media Executive Ukrainian Community Response 2023
SOCIAL MEDIA EXECUTIVE ROLE DESCRIPTION
Application Process:
Applications by way of cover letter and C.V. should be sent in confidence by email to sharon@volunteerclare.ie with "Social Media Executive" in the subject line.
Closing date for receipt of applications is 5pm on Wednesday 2nd August 2023
If you have any questions about the role please contact sharon@volunteerclare.ie
Clare Volunteer Centre is an equal opportunities employer.